BBI Full-Service Office Furniture Outlet - Serving Businesses Throughout WNY With New, Lightly Used, & Fully Refurbished Office Furniture: Office Chairs, Desks, Filing Cabinets, Conference Tables, Office Cubicles & Call Centers, Office Workstations... Call 716.876.6800 For Affordable, Quality, Office Furniture With Premier Service
The Cost Benefits Of Refurbished Office Furniture
Compared to the cost of New Furniture, You can $SAVE$ 60 – 80% by buying BBI Refurbished Office Furniture!
BBI stocks a large selection of Refurbished Office Furniture including: refurbished office chairs, refurbished office desks, refurbished storage & filing cabinets, refurbished office conference tables, refurbished office cubicle systems & call centers… - all from quality furniture manufacturers like Haworth, Herman Miller, Steelcase, Teknion…
High-Quality Office Furniture Is Built To Last
High-Quality Office Furniture, from manufacturers like Eurotech, Haworth, Herman Miller, HON, Knoll, Steelcase, Teknion… is structurally-designed and engineered for long-term performance and durability in commercial office use. The underlying structure of a quality office chair, desk, cubicle system… therefore has potential for a very long lifespan.
In reality, high-quality office furniture is rarely ever worn out, it is typically replaced when its' superficial exterior (paint and/or fabric) has become worn, dirty, or just doesn't fit with the new office color scheme. This is why BBI Refurbished Office Furniture makes such good sense.
BBI Refurbished Office Furniture
Buffalo Business Interiors specializes in re-using and refurbishing High Quality Office Furniture. If You have High Quality Office Furniture that no longer fits in Your office please do not send it to landfill without calling us. We can help you save the environment and $SAVE$:
'Worn' Or 'Aged' Quality Office Furniture - Can be Refurbished / Remanufactured to look like OEM New Furniture, or exact-matched to complement your custom office colors and fabrics.
Refurbished Office Furniture Myths
Custom Refurbished Office Furniture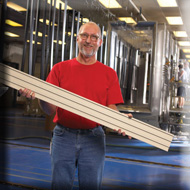 Expert Furniture Design & Refurbishement Services
There are several common misperceptions that may prevent You from considering BBI High Quality Refurbished Office Furniture. Get the real facts and don't let these misconceptions prevent You from saving our environment and $SAVE$:
Myth 1 - Refurbished Office Furniture Is Inferior In Quality To New Office Furniture
BBI Expertly Refurbished Office Furniture looks, feels and even smells just like new office furniture. Apart from the obvious cost difference, we challenge You to tell us the difference between BBI Refurbished Office Furniture and the manufacturers new piece.
Since BBI Refurbished Office Furniture is restored to like-new condition, you will find it equal in quality and reliability to new furniture. We proudly stand behind our Quality Refurbished Office Furniture with a limited warrantee and exceptional post-sales service.
Myth 2 - Quality Refurbished Office Furniture Is Difficult To Find
BBI maintains a large inventory of high quality Lightly Used and Refurbished office furniture. We can refurbish any piece to OEM standards or with custom colors / fabrics to match your existing office furniture. Large volumes or specific pieces can be special ordered.
We can also refurbish Your existing office furniture with short lead-times, typically delivering and installing your refurbished office furniture within about 2-4 weeks.
Myth 3 - Custom Refurbishing Is Expensive
Now you can have Your office furniture custom finished with new colors and fabrics to perfectly match your office environment at a fraction of the price of new furniture. BBI refurbished Office Furniture typically costs 60 – 80% LESS than new furniture.
$SAVE$ 60-80% - To Purchase Refurbished Office Furniture, Or If You Are Interested In Selling / Trading High-Quality Used Office Furniture In WNY, Call Buffalo Business Interiors At 716.876.6800